I just published my August expenses and I realized that this was my 12th month of posting my expenses so I figured I'd do a summary post to see where the money has gone. This information is from September 1, 2015 to August 31, 2016.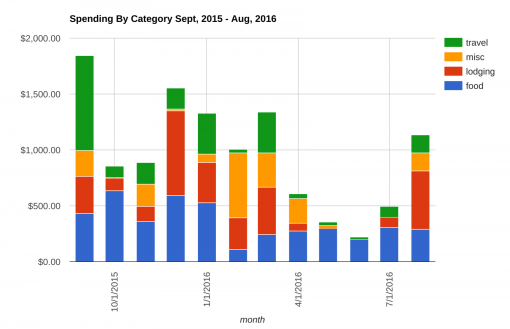 Most expensive month:  September, 2015 – $1845.27
Least expensive month:  June, 2016 – $222.52
Breakdown by Category
Transportation:  $2459.70 (avg $204.98)
Lodging: $3093.63 (avg $257.80)
Food & Entertainment: $4254.93 (avg $354.58)
Miscellaneous: $1814.98 (avg $151.25)
Destinations Visited
In the last 12 months I visited 41 cities (several of them multiple times) and 19 countries.
The most amount of time was spent in England (4 months) and the least amount in Denmark (1 day)
Kiev, Ukraine
Lviv, Ukraine
Vilnius, Lithuania
Kaunas, Lithuania
Southampton, UK
Bath, UK
London, UK
Amsterdam, Netherlands
Apeldoorn, Netherlands
Rotterdam, Netherlands
Kortenberg, Belgium
Alanya, Turkey
Salzburg, Austria
Dusseldorf, Germany
Seville, Spain
Tarifa, Spain
Malaga, Spain
Barcelona, Spain
Bangkok, Thailand
Chiang Mai, Thailand
Siem Reap, Cambodia
Phnom Penh, Cambodia
Chau Doc, Vietnam
Ho Chi Minh City, Vietnam
Da Nang, Vietnam
Hoi An, Vietnam
Hue, Vietnam
Hanoi, Vietnam
Beijing, China
Nottingham, UK
York, UK
Bakewell, UK
Copenhagen, Denmark
Helsingborg, Sweden
Gdansk, Poland
Warsaw, Poland
Wroclaw, Poland
Krakow, Poland
Budapest, Hungary
Belgrade, Serbia
Sarajevo, Bosnia
How I Keep My Expenses Low
People frequently ask me how I keep my expenses so low.  The biggest ways are:
House Sitting.  I am an avid house sitter.  In these 12 months, I spent at least 6.5 months staying for free in other people's houses.  This saves me a TON of money.  If I estimate my monthly lodging expenses as $500 a month without house sitting, this alone saved me $3500 over the course of a year.
Cooking for myself.  I enjoy cooking and, in general, I try to follow a strict eating plan (as a result I've lost about 40 lbs in the last 12 months) so as much as possible I cook at home.  The exception to this is when I was in Asia and when I'm moving frequently and I just don't have regular access to a kitchen.  Cooking at home saves heaps of money even given that my diet is meat heavy and therefore relatively expensive.  Cooking at home as probably saved at least a few thousand over the last 12 month, especially when I was in expensive places like England and the Netherlands.
Rarely drinking.  While I can be a drinker (mmm…wine), drinking a lot generally doesn't fit with my health or budgetary goals so I limit it – a lot.  And when I do drink, you can see the impact on my budget.
WHY do I Keep My Expenses Low
Simple – I'm a cheap ass.  I don't see a reason to spend $3k when $1k will do me just fine.  I like a simple life. I have simple pleasures.  I don't deprive myself.  I get to do and see the things I want to do and see.  But my day to day life is simple and I like it that way.  I do occasionally splurge but those splurges are generally on experiences, not renting a flashy pad.